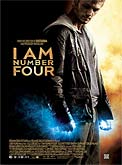 ANNOUNCER: From DreamWorks Pictures comes I AM NUMBER FOUR, an edge of your seat thriller starring Alex Pettyfer as John Smith, a young man on the run from ruthless enemies sent to destroy him.

CLIP: "There were 9 of us who escaped. Number One was killed in Malaysia; Number 2 was murdered in England. Number 3 was hunted down in Kenya."

ALEX: "I AM NUMBE FOUR is an origin story. You kind of figure out who you are, what you're capable of."

CLIP: "Am I Number 4? I'm next."

ANNOUNCER: Director D.J. Caruso, who also brought us the box-office hits "Eagle Eye" and "Disturbia", was captivated by the story's unusual premise.

CARUSO: "These 9 children from Lorien, this other world, when their world Is sort of overtaken by these evil Mogordians, the children are sent to earth and sort of hidden out."

CLIP: "I've been on the run ever since I can remember." "Keep your head down."

ANNOUNCER: Changing his identity and moving from town to town, John is always 'the new kid' with no ties to the past except 'Henri', his guardian played by Timothy Olyphant.

OLYPHANT: "He has this sort of telekinetic energy that comes out of his hands and at first he doesn't understand it."

CLIP: "You were given these powers for a reason. As you focus, you're going to learn to control them."

ANNOUNCER: But John's pushing the boundaries and falling in love without realizing the high stake consequences.

CLIP: "You have no idea how many others have made sacrifices so you can live."

ANNOUNCER: From producer Michael Bay and Dreamworks Pictures

CLIP: "You can't stop what's coming." "'I'm not going to let anyone hurt you."

ANNOUNCER: I AM NUMBER FOUR

CLIP: "You have no idea what I'm capable of."

ANNOUNCER: In Hollywood, I'm _______________.
---
https://www.radiolinkshollywood.com/
find more behind-the-scenes MP3s