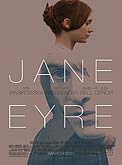 CLIP: Do you know Jane Eyre where the wicked go after death? They go to hell. And what is hell? A pit full of fire.

ANNOUNCER: From acclaimed director Cary Fukunaga, one of cinema's most exciting new talents, comes a bold new vision of Charlotte Bronte's timeless classic, Jane Eyre. Mia Wasikowska, the fast rising star who drew notice and acclaim for her work in Alice in Wonderland and The Kids Are All Right, stars as Jane; the young orphan who after a difficult and loveless childhood is able to find refuge as a governess at Thornfield Hall, a mysterious estate where she is immediately treated with kindness and respect by housekeeper Mrs. Fairfax played by Oscar winner Judy Dench.

CLIP: This is a grand old house but it can feel a little dreary.

DENCH: It's a wonderful story – romantic, dark with a rather unexpected end. It quite ambiguous as to who knows what in Thornfield Hall.

ANNOUNCER: There Jane meets the estate's charismatic owner Mr. Rochester.

CLIP: Your gaze is very direct Miss Eyre. Do you think me handsome? No sir. You're afraid of me. I'm not afraid.

ANNOUNCER: Vanity Fair raves, "Let the swoons begin."

WASIKOWWSKA: It's such a relevant story. June is just timeless. You get the sense that if she was to live in our society today she'd just thrive. She's so tough and strong.

ANNOUNCER: Focus Features proudly presents Jane Eyre. In Hollywood, I'm ______________.
---
https://www.radiolinkshollywood.com/
find more behind-the-scenes MP3s