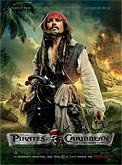 ANNOUNCER: From Walt Disney Pictures and Jerry Bruckheimer comes PIRATES OF THE CARIBEEAN: On Stranger Tides, the fourth film in the highly successful, wildly popular "Pirates of the Caribbean".

CLIP: "We know you're in possession of a map." "I could use a ship."

BRUCKHEIMER: "We're all back together again."

ANNOUNCER: As Johnny Depp returns to his iconic role as Captain Jack Sparrow.

DEPP: 'Stepping into Captain Jack's boots once again is always a pleasure because he's so strange"

CLIP: "Did everybody see that!"

ANNOUNCER: Joining Johnny in this action-packed swashbuckling adventure in Disney Digital 3D is Academy Award winner Geoffrey Rush, who returns once again as the indestructible Captain Barbossa.

CLIP: "You!" "I was here first." "Oh please."

ANNOUNCER: While the ravishing Oscar winner Penelope Cruz becomes the first female pirate of the blockbuster Franchise.

CRUZ: "Angelica was in a relationship with Jack."

CLIP: "What are you doing in a Spanish convent anyway?" "Mistook it for a brothel, honest mistake."

CRUZ: "He really hurt her and corrupted her."

ANNOUNCER: As Jack finds himself in turbulent waters on an unexpected journey with Angelica.

CLIP: "Death lies before us as we sail to The Fountain of Youth."

ANNOUNCER: This summer

CLIP: "Mermaid waters that be our path!"

ANNOUNCER: Jerry Bruckheimer promises this is one ride you're not going to forget.

BRUCKHEIMER: "Anybody who loved the first 3 PIRATES is going to love ON STRANGER TIDES."

CLIP: "Have you been there?" "Does this face look like it's been to The Fountain of Youth?" "Depends on the light."

ANNOUNCER: PIRATES OF THE CARIBBEAN: On Stranger Tides in Disney Digital 3D. In Hollywood, I'm _____________________.
---
https://www.radiolinkshollywood.com/
find more behind-the-scenes MP3s