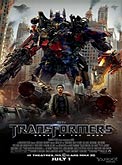 ANNOUNCER: Hang on and get ready for the ride of your life

CLIP: "Oh my God." "You cannot believe what we're seeing…"

ANNOUNCER: …as Paramount Pictures presents the most anticipated 3D event of the summer -

CLIP: "If you breathe a word of what you see in here, we'll do time for treason."

ANNOUNCER: TRANSFORMERS 3: Dark of the Moon: starring Shia LeBeouf; reprising his role as Sam Witwicky,

SHIA: "We pick him up in this 3rd movie in the middle of joining the work force and he's in the middle of this new relationship."

CLIP: "You love it don't you, I'm just your American boy toy." "My lover boy toy."

ANNOUNCER: Rosie Huntington-Whitely; recently named "Maxim's 2011 hottest woman on the planet", had a blast playing Sam's new love Carly.

ROSIE: "I cannot imagine how insane it's going to be in 3D with these robots and the special effects."

ANNOUNCER: Chicago itself plays a huge role.

SHIA: "It's Michigan Ave. that's where the fight is, that's where it's all going down and there's 20 thousand people in the street roped off watching you go to work, I've never experienced that before (music effects up)… now just buckle in and be amazed."

CLIP: "Years from now, they're going to ask; where were you when they took over the planet."

ANNOUNCER: From director Michael Bay and Executive Producer Steven Spielberg

CLIP: "Everything humans know of our planet we were told had been shared. You lied to us; you've made a grave mistake."

ANNOUNCER: TRANSFORMERS 3: Dark of the Moon…

CLIP: "It's over, I'm sorry but it's over."'

ANNOUNCER: Presented in 3D, from Paramount Pictures

CLIP: "Optimus!" "You may lose your faith in us, but never in yourself, from here the fight will be your own."'

ANNOUNCER: In Hollywood, ____________________.
---
https://www.radiolinkshollywood.com/
find more behind-the-scenes MP3s