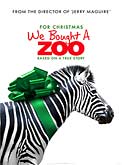 ANNOUNCER: From 20th Century Fox comes WE BOUGHT A ZOO a funny, inspiring and true story staring Matt Damon as Benjamin Mee, a single father facing the challenges of raising two kids.

CLIP: "Hustle, hustle, we're late! Bye." "Bye dad."

DAMON: "The son is 14 years old and starting to act out a little bit so the father, who I play Benjamin, does this kind of radical thing which is he decides to move the family to a new place."

ANNOUNCER: Which means leaving his job as a LA newspaper columnist and adventure writer.

CLIP: "I salute you and the great times we had together, and I quit."

ANNOUNCER: But Benjamin has no idea what kind of an adventure he's getting into when his real estate agent shows him an old house on 18 acres that comes with a very unique bonus.

CLIP: "This place is perfect, why didn't you mention it earlier?" "Well, it's a bit complicated." "What so complicated about this place?" "Well you see, it's a … (roar roar) … it's a zoo." "A zoo." "Yea!"

ANNOUNCER: Fun for little Rosie but not so cool for her older brother Dylan.

CLIP: "This is what you want! It's not what I want!" "We bought a zoo!"

ANNOUNCER: And the zoo comes with a dedicated team of helpers including head zoo keeper Kelly Foster, played by Scarlett Johansson.

CLIP: "We need somebody who can really take charge of this place or else we and all these animals are gone."

ANNOUNCER: From 20th Century Fox comes a story filled with humor, heart and courage.

CLIP: If you stick with me I will give this everything." "Well it's good enough for me."

ANNOUNCER: Matt Damon - Scarlett Johansson

CLIP: "Please don't take offence if I don't hit on you." "I'd be offended if you did." "Thank you …"

ANNOUNCER: WE BOUGHT A ZOO

CLIP: "… I think."

ANNOUNCER: In Hollywood, I'm _________________.
---
https://www.radiolinkshollywood.com/
find more behind-the-scenes MP3s