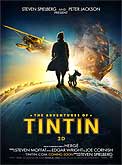 ANNOUNCER: From the two greatest storytellers of our time: Oscar winning director Steven Spielberg and Oscar winning producer Peter Jackson comes THE ADVENTURES OF TIN TIN.

CLIP: "I don't think you realize this, but you're walking into a whole mess of danger."

ANNOUNCER: A 3D globe-trotting epic which critics everywhere are calling "One of the Best Animated Films of the Year."

CLIP: "This may sound crazy, but I can a plan." "Excellent."

ANNOUNCER: Featuring the voice-talent of Jamie Bell as TIN TIN, and his loyal dog Snowy as they discover a mysterious model ship in a bottle.

CLIP: "Snowy, look at this. It was long claimed the ship was carrying a secret cargo."

ANNOUNCER: Andy Serkis plays the cantankerous Captain Haddock who joins our young hero in a breathless chase around the world outwitting and outrunning enemies in their quest to find the ancient ship that may hold the key to a secret treasure.

SERKIS: "This film is a massively powerful piece of storytelling; a heart-pumping action-adventure."

CLIP: "If Sakharine finds the ship before we do it's over."

ANNOUNCER: It's a story filled with characters you care about, and villains you fear including Ivan Sakharine voiced by Daniel Craig.

CLIP: "I will find that ship with or without your help."

ANNOUNCER: From director Steven Spielberg and producer Peter Jackson comes a holiday adventure for the whole family.

CLIP: "TIN TIN, look!"

ANNOUNCER: As Paramount Pictures and Sony Pictures Entertainment invite you to a world beyond imagination -

JACKSON: "In an age where there's lot of science fiction there is a lot of superheroes, why not good old adventure storytelling."

ANNOUNCER: THE ADVENTURES OF TIN TIN - presented in Real 3D and IMAX3D

CLIP: "Well done Snowy."

ANNOUNCER: In Hollywood, ___________________.
---
https://www.radiolinkshollywood.com/
find more behind-the-scenes MP3s