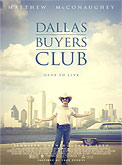 ANNOUNCER: Audiences and critics can't stop talking about DALLAS BUYERS CLUB, back in theaters across the country. And now it's been honored with six Academy Award nominations including Best Picture of the Year, Best Actor for Matthew McConaughey and Best Supporting Actor for Jared Leto. Both Matthew and Jared are fresh off wins at the Golden Globes, the Screen Actors Guild Awards, and the Broadcast Film Critics' Awards for their transformative performances in this extraordinary story of acceptance and survival. Jared Leto says:

LETO: "Matthew brings an incredible commitment to the character of Ron, he's the guy you fall in love with that you don't think you're going to at first."

ANNOUNCER: McConaughey stars as Ron Woodroof, a Texas cowboy, gambler and all around-hell raiser in the mid 80's who's blindsided by a stunning diagnosis.

CLIP: "Mr. Woodroof, you've tested positive for HIV. We estimate you have 30 days left. There ain't nothin' out there that can kill Ron Woodroof in 30 days!"

MCCONAUGHEY: "The violin strings are not out in this story. This guy was wild."

ANNOUNCER: Ron finds an unlikely ally in fellow AIDS patient Rayon played by Jared Leto, who also shares Ron's lust for life and entrepreneurial spirit.

LETO: "It was a character that I had to play, someone who was passionate and had a great heart."

ANNOUNCER: Inspired by true events, Focus Features invites you to experience one of the most acclaimed films of the year.

CLIP: "I got one life; I want it to mean something."

ANNOUNCER: DALLAS BUYERS CLUB. In Hollywood, I'm ________________.
---
https://www.radiolinkshollywood.com/
find more behind-the-scenes MP3s